About Timothy Richards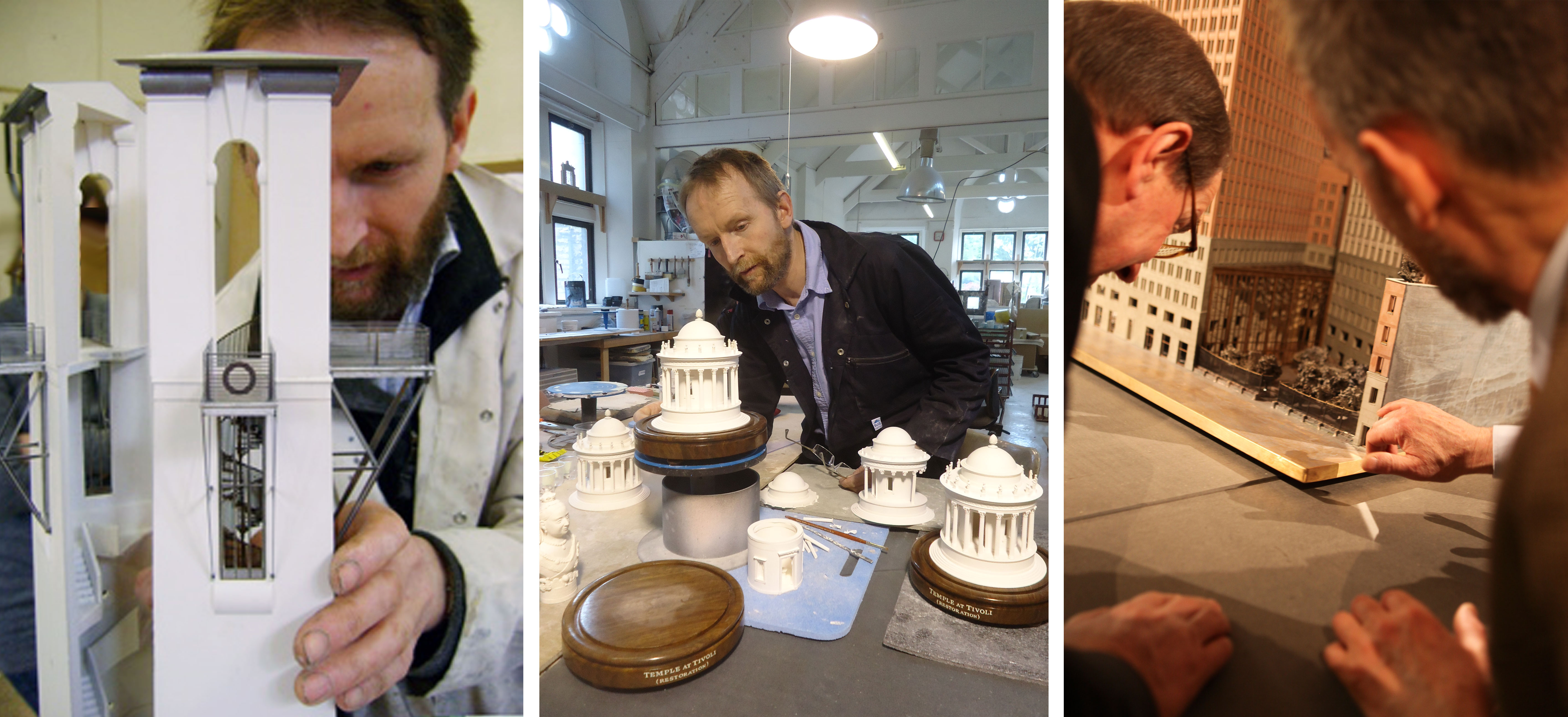 Visit the commissions website to see the top end exclusive models made to commission. Prices 5k – 100k > www.timothyrichardscommissions.com 
Timothy began making models from his attic workshop in May 1988.
Tim grew up in Corston; a small village 4 miles from Bath. He has built models in one form or another since his primary school days. Tim went on to work as an outward bound instructor on leaving school and taught in South Wales for six years. He gave up his job teaching to join the adventurer and writer Tim Severin on the island of Spetses in Greece, building a wooden galley. This was later rowed through the Bosphorus to Georgia recreating the voyage of Jason and the Argonauts. After this Tim became the manager of a small pottery. Two years later he returned to Bath, starting his own company at the age of 33.
Over the last quarter of a century, Timothy Richards has built a unique international reputation. Working in British Gypsum Plaster, his handmade architectural work is now coveted by collectors in a number of countries — particularly in America.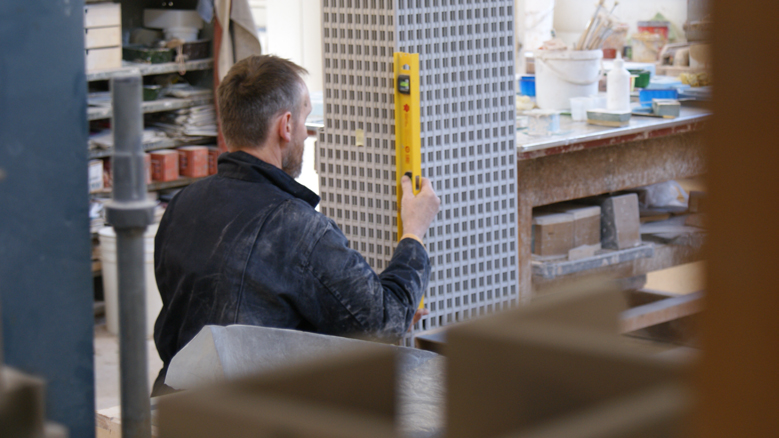 Timothy Richards' is based in a beautiful Victorian schoolhouse in Bath; his workshop for the past seven years. For five years Tim worked alone developing processes which are now at the heart of the business. From the start Tim chose materials and built an aesthetic through which he could express the architectural form. John Marlour, who has been with the company for 20 years has also been pivotal to the development of these techniques. Tim found he had a natural affinity for exploiting materials and processes. In time he evolved his brand and always seeking excellence regardless of the commissions undertaken.
Approximately 5 years after starting the business, Tim flew to America without knowing anybody and without any prior business contacts . He returned again and again building up a network by calling on museums and interested individuals. He was asked to give a talk at Notre Dame University Indiana to the architecture school which was received rather well. Over the course of three years Tim had crossed America a number of times by train and plane, gaining accounts in Gumps, West Coast and Bergdorf Goodman, East Coast. Organisations began to take interest and slowly but surely, collectors began to grow in number.
As well as his plaster work, Tim also produces bronze models using the lost wax process which is 3000 years old.
This includes the most valuable architectural prize in the world; The Richard H. Driehaus Award, presented each year in Chicago. Tim's work has been presented to Royalty in the UK and abroad, and used to acknowledge service and philanthropy within civil, educational and public life. The last six Lord Mayors of London have chosen to use Timothy Richards work for diplomatic gifts.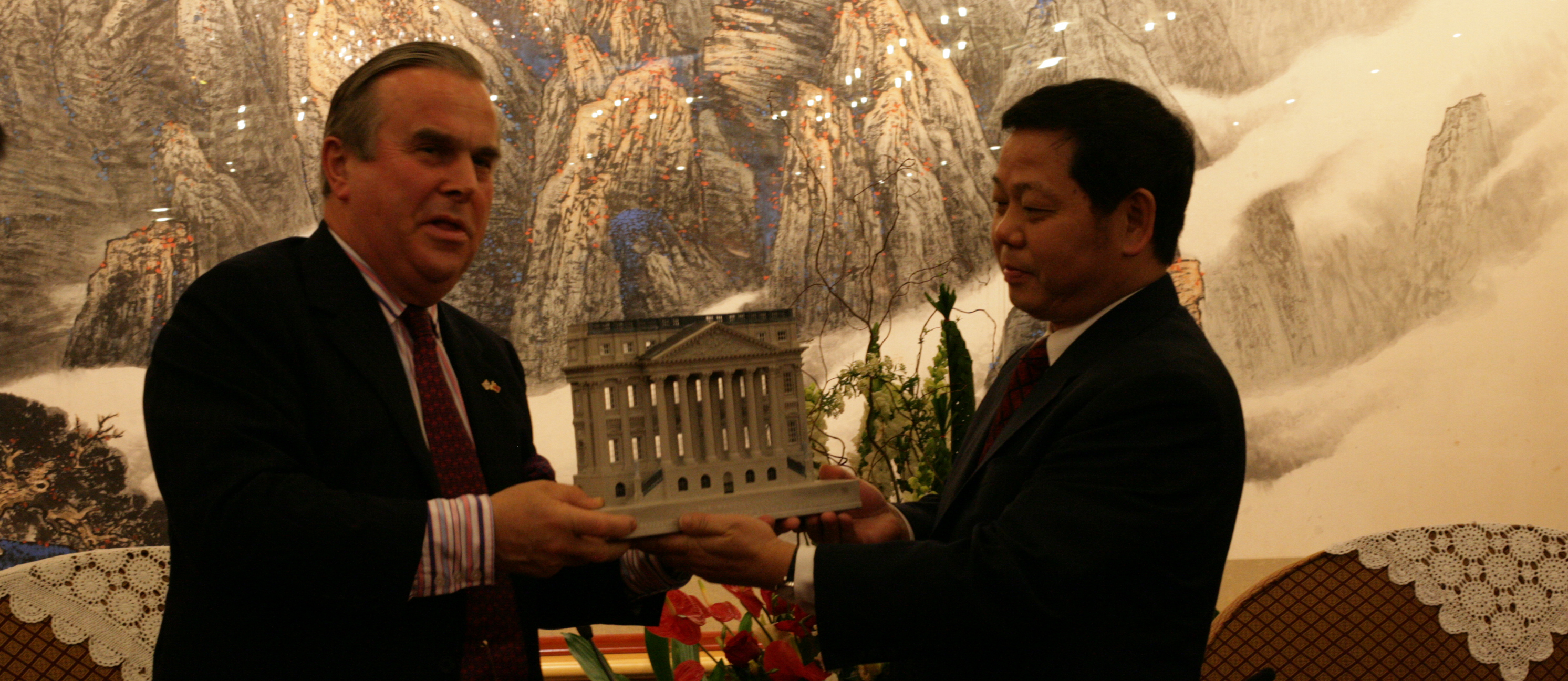 In collaboration with The Royal Institute of British Architects, (http://www.architecture.com) a recent exhibition of Richards' architectural sculpture toured the US to illustrate and compliment original drawings by Renaissance architect Andrea Palladio. Both the Morgan Library, New York, Washington nation Building Museum, Notre Dame University and Carnegie Museum, Pittsburg hosted this important exhibition. It was seen by over 100,000 Americans.
In 2013 Timothy was pleased to be awarded The Arthur Ross Award for Artisanship and Craftsmanship. The Institute of Classical Architecture and Art in America (http://www.classicist.org) award the prize annually for the recognition and the celebration of excellence in the classical tradition.
This story all sounds quite rosy. In the early years the bank advised Tim to shut the business twice as it was not showing signs of making any money. He should return to teaching, a prospect which he did not want to consider! On November 11th 1992 the workshop burnt to the ground. Tim is now in his eighth workshop and still working hard a quarter of a century later. Despite what the bank said, he always knew there was something there.
If you are experiencing any problems in ordering products or want more information please contact the workshop